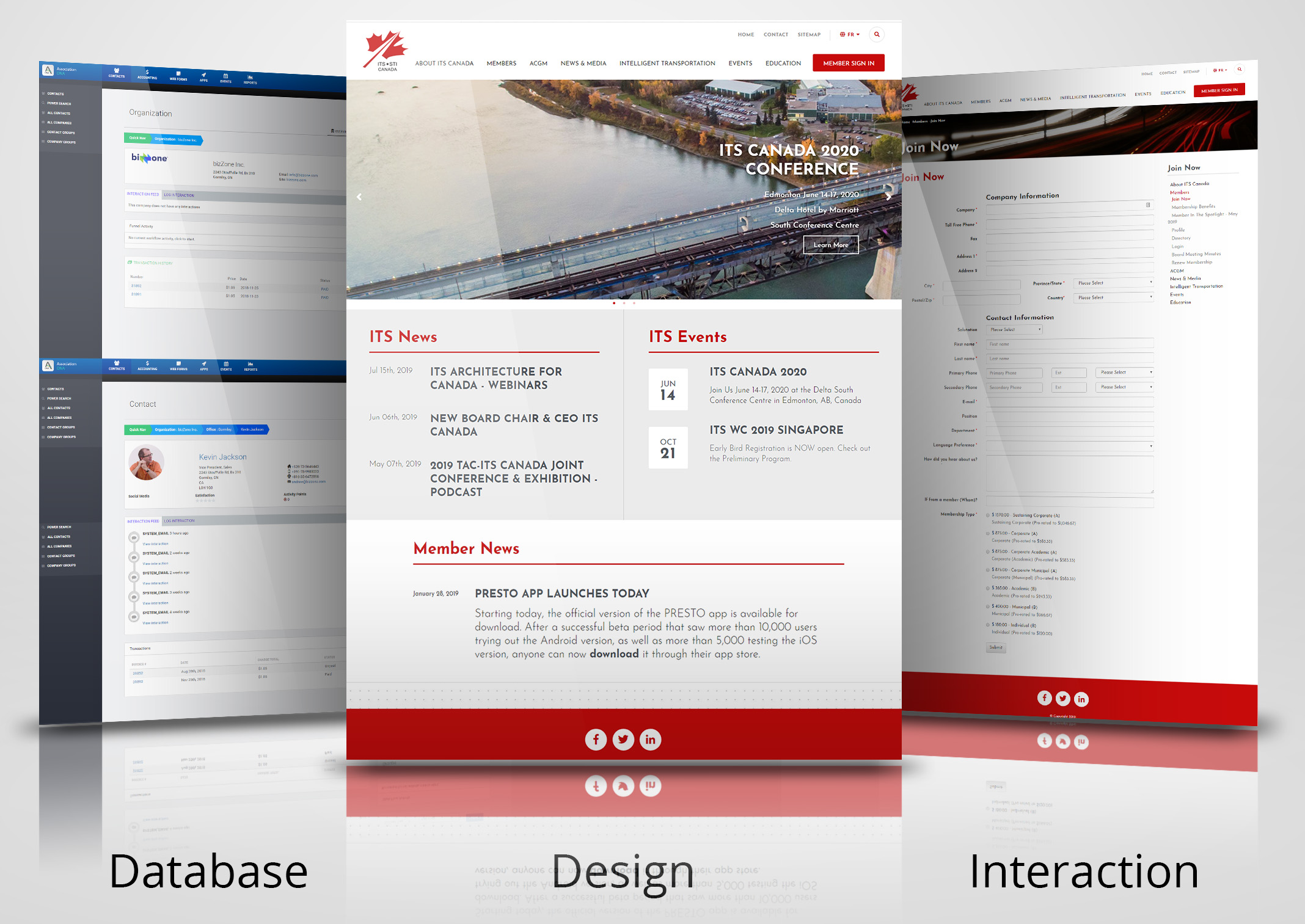 Intelligent Transportation Systems Society of Canada

Intelligent Transportation Systems Canada (ITS Canada) is a national, bilingual association that leads the promotion and advancement of intelligent transportation systems and services to benefit Canadians.
As a national association focused on innovative technologies, brand was naturally important. Yet more so was the ability to fully integrate and manage memberships and the association's website.
The ITS Canada website, which is integrated with their member database, use the bilingual (French-English) capabilities built into Association DNA and WebPortal One. This enabled ITS Canada to develop a bilingual website and database for a fraction of the cost of other solutions.
Identity, extended.
Many years after their first website launch, ITS Canada asked us to develop a fresh, new mobile responsive look and feel.
The most important aspect of their identify development online was to probe beyond simple visuals to understand why the association was important to its members. The project focused on the brand and ITS Canada was able to benefit from minor upgrades to their existing management software tools. Their initial "future-proof" investment enabled them to invest their budget into high value results.
Data, Anyway.
A key part of this project relied on the high flexibility of WebPortal One, our content management system. Using our DataAnyway modules, ITS Canada was able to shape the information on their website to exactly meet their needs, with slider, news, events and case studies managers.
Our bilingual DataAnyway micro-databases make it easy to exactly shape the information you want to share with your members and the public.
Because communication with the association executive is critical for many associations, we also used the specialized Virtual Boardroom module of DataAnyway to provide advanced communication tools to the association's boards and committees.
Members, in their DNA.
Like many associations, members are essential to ITS Canada. Managing those member and ensuring that their data can flow smoothly between the website and back-office database was essential.
bizZone had already helped ITS Canada make a successful transition from an outdated Filemaker Pro database to Association DNA, our robust Association Management System (AMS).
When the payment industry introduced the new TLS 1.2 SSL requirements, ITS Canada made its next major upgrade to the latest version of our member database.
Using the company centric version of Association DNA, we were able to help keep the focus on the companies and organizations that make up ITS Canada's membership, making it easy for them to manage people in these member organizations including easily managing their roles, locations and other details.
This is where our hybrid software as a service (hybrid SaaS) design has really paid off. ITS Canada automatically received the core SaaS system and was able to add specific customizations to the core based on important needs specific to them.
Some of these customizations included:
Different numbers of contacts for each member depending on the membership category and status of the contact (e.g. unlimited students vs. limited regular contacts);
Prorating of fees using logic that changed as time passed during the membership year;
Different levels of information that could be edited for the member director based on the membership category; and
Significantly different information displayed on the public and members-only facing member directories.
Then there are the efficiency gains as well. By matching the complex rules of ITS Canada's membership requirements, we were able to reduce the amount of manual entry from a process that could take over 20 minutes per member to one that was automated and as such was reduced to a matter of seconds at most.
Results, achieved.
At bizZone our main goal is to help our clients' front-line staff do their jobs faster and with less frustration and we were very pleased to make this a reality for ITS Canada.
ITS Canada
Association DNA Custom Design DataAnyway WebPortal One