New Event Tickets Module Added to Association DNA
September 12, 2016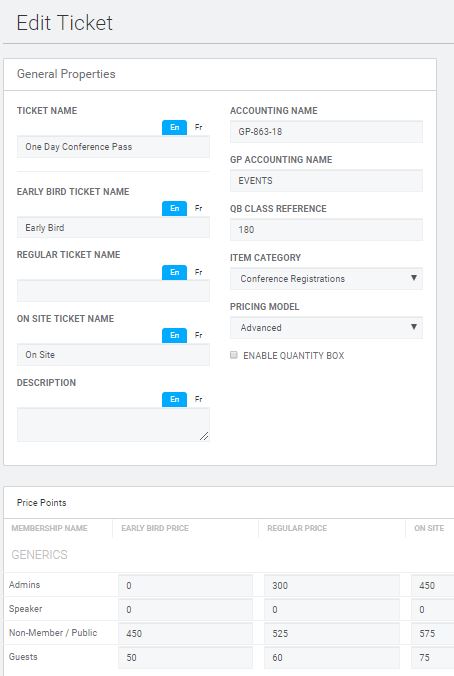 One thing we are known for with our enhancements to Association DNA is that we listen to our clients and are ready to add innovations and new features to our product based on complex requirements.
When the Canadian government introduced its overly complicated anti-spam legislation, commonly known as CASL, we responded by introducing our CASL smart filter, which provides the best, most extended, anti-spam management controls in any AMS system and can handle both implied and express consent options.
We are now continuing with our hallmark focus on innovation as we introduce a powerful new feature to Association DNA: Advanced Event Tickets.
Why Advanced Event Tickets?
One challenge associations often face is that their needs are fairly mundane and normal... until they are not. Since computer systems are not adept at addressing these outliers - what the programming world usually refers to as "corner cases" - association staff must either find cumbersome workarounds or sacrifice the depth of complexity they offer.
We recently had several association clients with complex needs for their event tickets. Just a few of their corner-case scenarios included providing:
A different price for every conference ticket type sold to each of over 20 membership types, leading to over 100 ticket options as a minimal requirement for each event and over 500 options for the larger annual conference
Free or lower-priced tickets to speakers and other special attendee categories
Lower priced tickets to non-members unless the person worked for a non-member organization that was qualified for, but chose not to have, a membership with the association, in which case a higher rate needed to be charged
An ability to restrict the number of guests a member could buy tickets for
The ability to set-up some, but not all, events so that both members and non-members could attend themselves, but only members could buy guest tickets
In an effort to build a robust, flexible system that would enable our clients to fulfill these and other complex ticketing requirements, we developed a new ticketing feature in our events module that offers unparalled flexibility, while still ensure that the association has full control over how event tickets are sold.
Designed to empower our clients, each ticket has the following major attributes:
General information: define the ticket name and create variations for early bird, regular and on-site tickets.
Accounting details: there is no need to make accounting items for each ticket, they are generated by our AMS and are inherently set-up to be imported into external accounting systems.
Dates available: each ticket can be configured to have early-bird, regular and on-site sale dates.
Prices by member type: each member type can have its own early bird, regular and on-site price.
Special system prices: you can set special guest and administrator pricing.
Special pricing for custom groups: one of the most innovative additions to our tickets module is the ability to make a special company or contact group and then give everyone in that group access to special pricing, just for them. This is perfect for speakers, sponsors, exhibitors and special guests.
Book a demo today to see how the new ticket module can empower your association!