Covid-19: Cloud's Time Has Come
May 11, 2020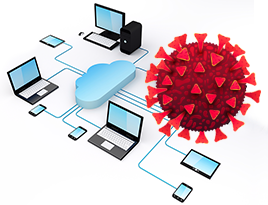 Much has been written about the pandemic, yet as we are living in the moment, it can be very difficult to get any sense of what is yet to come.
A safe prediction for what lies ahead is that we should expect to see technology and its role in every workforce take a more central role than it already has.
Shortly after workplace closures were introduced, we welcomed the feedback from our clients that their transitions to the new work-at-home reality had gone smoothly, since their key membership database and website management tools were already cloud-based.
When we first conceptualized Association DNA back in the early 2000s our main driver was to have the membership database in the cloud and to have it act as the master database for all member related data and forms on the association websites.
We introduced one of the first cloud-based member database systems and today have expanded this to have a robust API that can fully integrate the membership database with external applications. Yet back in the association office, two legacy systems are common that make a shift to at home work challenging: servers and the phone system.
Here are some things to consider before you adapt your organization's servers and phone system.
Cloud-Based Servers and Security
Probably the biggest risk of the sudden shift to work-at-home orders is that many organizations have relied on the physical location of the organization's servers to keep access to confidential data safe. The idea is simple: Organizations can control access to confidential files and data by setting up a local area network (LAN) and only allowing someone to access to the servers if they are on the local network.
Implementing a virtual private network (VPN) that allows staff to tunnel in to the internal network from remote locations can be a solution, but there are challenges with this as well. Key challenges include:
Having all of your staff access the organization's servers through a VPN can create network slowdowns,
Existing hardware may need to be upgraded to handle increased usage / users, which can get costly, and
There is an increased chance that users will circumvent controls meant to protect data and documents policies as they deal with issues like network slowdowns or have a slow / unstable Internet connection.
As many organizations rethink the traditional office and virtualization of staff, there will certainly be a push to transition to cloud-based servers. A critical caution in doing this is to make sure that the security, privacy and continuity of any cloud-based data is planned for and protected. At the very least you will want to develop privacy, security and risk management plans.
Smart Phones and Voice Over Internet Protocol (VOIP)
While we are quickly seeing online video chats replace phone calls, the phone is still an important tool.
We have seen that most staff have simply used cellphones when stay at home orders were introduced, but in the longer term this is something each organization will need to consider for employees who rely on phone communications. This may be a cost that organizations will need to cover if staff continue to work remotely for longer periods of time.
The main driver to VOIP is that staff extensions and numbers can be directed to where they are, regardless of where that is physically, as long as they are online: to the members and others calling in, it is as though everyone is in the office.
There are many competitive VOIP solutions: one of the key considerations about making a shift is whether you and your team have adequate bandwidth to handle VOIP calls.
Depending on the quality of your Internet service this can be a challenge when routing is primarily limited to the office. When you add in the Internet quality of each staff member, with some staff possibly working from more rural locations where bandwidth outputs are often reduced, this could be a barrier to being able to effectively use VOIP.
Transition to Cloud, Carefully
Shifting to a more comprehensive use of the cloud in your organization is a vital step that must be done with care.
It is important to anticipate and mitigate any negative outcomes. Once you have done that the transition should go smoothly and be well worth the investment in our new pandemic workplace reality.